1

Maths Hons 1st Year
B.Sc Mathematics Hons for 1st Year Students Classes having 2 Papers. New Batches starts from July, 2014. The coaching classes only for students of Calcutta University and Barast univesity.
4

BSc Pass 1st Year
BSc Maths Pass classes for students BSc Pass & Hons Students having Mathematics one of the subject. Only 1 paper in the first year and the new Batches starting from 1st Week of July, 2014.
2

Maths Hons 2nd Year
The 2nd Year Classes for BSc Maths Hons Students having 2 Papers and classes are provided 2 days per week.
The classes are for College Students of
Calcutta Univesity and Barasat University.
5

BSc Pass 2nd Year
In 2nd Year for B.Sc Pass Course in Maths,
there are 2 Papers. There are 2 classes/week provided to students. All module and papers
taught one place that makes our BSc Maths Coaching Class Unique.
3

Maths Hons 3rd Year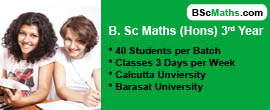 B.Sc Maths Hons 3rd Year is the toughest
for all students. There are 4 papers in one year and we provide 3 days classes/week to cover all 4 papers. Sometimes extra classes also provided.
6

BSc Pass 3rd Year
The 3rd Year for BSc Pass course,
there are only 1 paper for maths. Only
one class per week is enought to complete the syllabus. Sometimes extra classes also
provided by the teachers.